Vaginismus Plus
12 Weeks
Acute care

Sprache: Deutsch

Language: so far only in German
This course is for you if you experience pain with vaginal penetration. Over the space of 12 weeks, you'll gain lots of valuable information and be guided through helpful exercises to improve vaginal penetration.
CE Identification

GDPR-standard data protection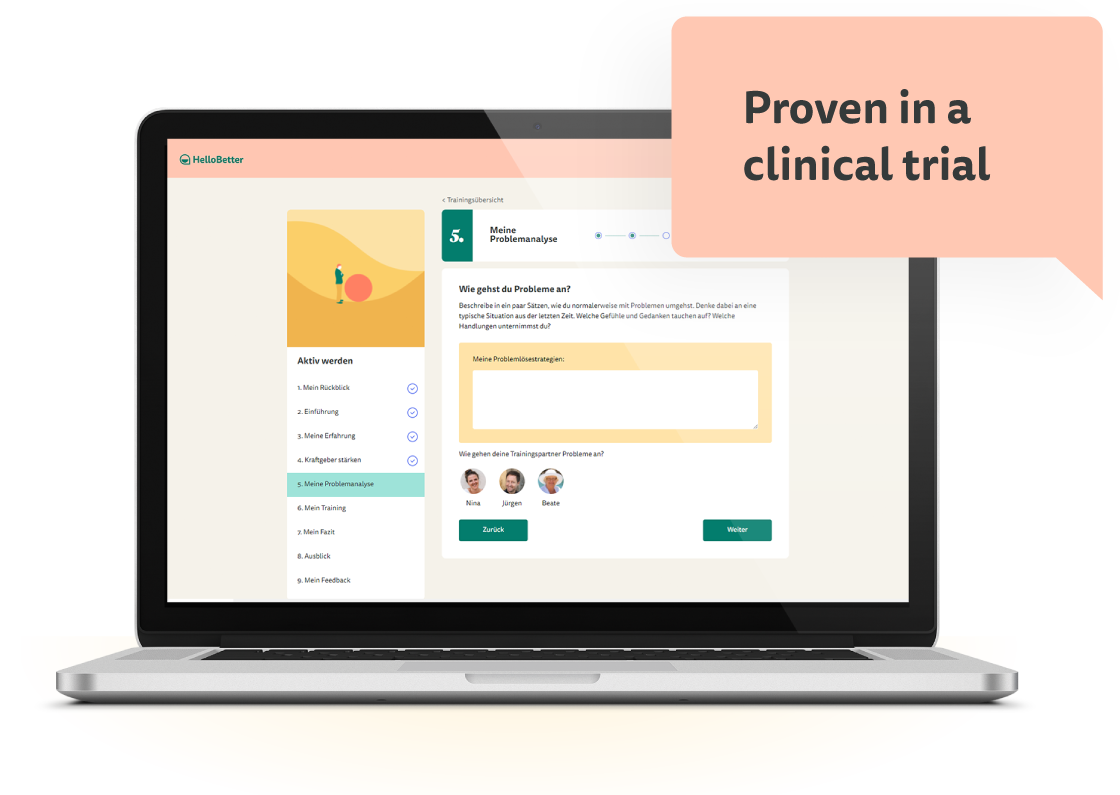 Your online course for vaginismus and dyspareunia (GPPPD)
12 Weeks
Acute care

Sprache: Deutsch

Language: German only
Our HelloBetter online course Vaginismus Plus is a scientifically evaluated online course to make vaginal penetration easier during sex and in other situations. Among other things, you'll find out what could be causing your pain, gain valuable insights into the female body, pleasure and arousal, and learn how to effectively perform vaginal training using dilators. All this content is specifically designed to address your discomfort – with the aim of making vaginal penetration possible by the end of the course.
What to expect
You will work through a total of 8 online course units, all based on proven cognitive-behavioural therapy strategies. The course units each take around an hour to complete and are easy to fit around your daily life. We recommend that you work through one unit each week. You will have full access to the course for one year.
Using our clear and effective methods, such as vaginal training with dilators and techniques to focus your attention, you can make vaginal penetration more comfortable through gradual practice. You will learn how fears and avoidance tend to perpetuate pain and how you can break this cycle. You will also get to know your body better, for example through pelvic floor exercises and self-discovery. If you have a partner, they will also be integrated into the course, for instance with the aim of introducing sex back into your relationship if pain during penetration is preventing this.
This course is suitable for you if...
you experience difficulties with vaginal penetration (e.g. having sex, inserting a tampon or finger, being examined by a gynaecologist).
you suffer from pain and anxiety during vaginal insertion.
you want to find out more about the causes of this and what the diagnoses genito pelvic pain/penetration disorder (GPPPD), vaginismus and dyspareunia are all about.
you wish to explore your body, your pleasure and your arousal.
you want to learn techniques for relaxation and dealing with difficult thoughts and feelings.
Personal support
Receive individual written feedback on completion of each unit.
Proven approach
Effective strategies to reduce your symptoms.
Part of your routine
Learn online, practise offline: effective exercises for your daily life.
Reduce vaginal pain and sexual anxiety with HelloBetter
Difficulties, pain and anxiety around sex can have various causes and can impact your quality of life. With our course, you take active steps to change this and improve vaginal penetration during sex and in other situations. The benefits have been demonstrated in a scientific study.
With the different methods you learn:
how to gradually improve vaginal insertion.

a mindful approach to anxiety and pain during penetration.

how to intentionally relax your pelvic floor muscles.

to identify thoughts that are helpful to you.

how to discuss sexual matters openly with your partner, letting them know that they are also valued.

to get to know your body and discover what arouses you.

to stop avoiding difficult situations (e.g. gynaecological examinations).
You may know HelloBetter by
What our users say
Over 40,000 people have completed our online courses to date.
Sabine (47)
It's impressive what you can learn about such a platform. A successful mixture of text, audio and film material.
Laura (39)
Simple help for self-help. Then when I need it.
Peter (59)
This form of counselling is very well suited to recognize your situation and to find out ways how to cope with the situation. I wish you that you will put many more on the right path, it has definitely helped me, keep it up!
Proven to improve vaginal penetration during sex
The Vaginismus Plus online course was developed by experts from science, psychotherapy and psychology, incorporating input from people who suffer from vaginal pain.
The effectiveness of the course has been examined and confirmed in a clinical trial. It was shown that vaginal penetration during intercourse became possible again for 31% of participants after completing the course. Furthermore, the study found that pain during penetration, sexual anxiety and distressing thoughts were significantly reduced. Vaginal penetration outside of sexual intercourse was also noticeably improved.
96% percent of the study participants said they would recommend HelloBetter Vaginismus Plus to a friend.
Effectiveness of the online course
The effectiveness of our HelloBetter Vaginismus Plus course has been proven in this clinical study:
Product Information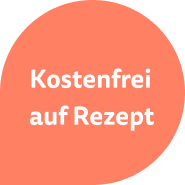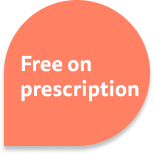 Soon available in English:
Vaginismus Plus
Your desired course is currently not available in English. However, you have the possibility to participate in the course in German. Alternatively, you can also subscribe to our mailing list. We will inform you as soon as your course is available in other languages.
Telephone assistance :
040 52 47 333 10
So startest du dein Training

Start your online course now

"Your online course for vaginismus and dyspareunia (GPPPD)"

"Your online course for vaginismus and dyspareunia (GPPPD)"

As an AXA CH insured you get a discount on all HelloBetter courses. You can enter the voucher code that you received from your insurance company on the right-hand side of the course page.
So funktioniert die Erstattung durch deine Krankenkasse.
This is how the reimbursement by your health insurance company works.
"Your online course for vaginismus and dyspareunia (GPPPD)"
"Your online course for vaginismus and dyspareunia (GPPPD)"
Unser Fit im Stress Training trägt das Siegel der Zentralen Prüfstelle Prävention (ZPP) und wird somit von fast allen gesetzlichen Krankenkassen teilerstattet.
Die Kostenübernahme erfolgt per Erstattungsverfahren. Das bedeutet, dass du die Kursgebühren erst einmal selbst trägst. Nach dem Kurs kannst du eine Teilnahmebestätigung bei deiner Krankenkasse einreichen, um die Kosten erstattet zu bekommen. Voraussetzung dafür ist, dass du den Kurs zu 100% abgeschlossen hast.
Beantrage deine Teilnahmebestätigung nach Trainingsende problemlos bei uns unter support@hellobetter.de.
Our Fit im Stress Training bears the seal of the Central Test Centre for Prevention (ZPP) and is therefore partially reimbursed by almost all statutory health insurance companies.
The costs are covered by reimbursement procedures. This means that you have to pay the course fees yourself first. After the course, you can submit a confirmation of participation to your health insurance company to get the costs reimbursed. The prerequisite is that you have completed 100% of the course.
After the end of the course, you can easily apply for your confirmation of participation at support@hellobetter.de.
Dein Gutscheincode wurde hinzufügt
Dein Gutscheincode wurde hinzufügt
Super! Dein Gutschein wurde mit dem Kurs dem Warenkorb hinzugefügt. Du kannst deinen Rabatt nun jederzeit einlösen.
Perfect! Your voucher has been added to the shopping cart with the course. You can now redeem your discount at any time.
Verstanden!
Got it!
Invalid Voucher
The voucher code you used seems to be invalid or expired. Maybe you just mistyped it? Please try again.
Zurück
Go back