Goodbye, worries.
HelloBetter
Scientifically proven psychological online trainings and online psychotherapy – if desired, accompanied by psychologists and psychotherapists. Help with depression, stress, anxiety, panic and other psychological complaints. And this year soon also on prescription, with the Digital Supply Act.
Learn more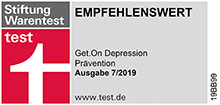 Scientific background
World leader in the research and development of online mental health courses for 12 years.
Psychological support
Online course support by qualified psychologists and psychotherapists.
Quick and easy
Immediate help for mental health problems. Available online – smartphone app coming soon.
How can we help?
Our online courses are scientifically proven to help with the most common mental health problems.
How do the online courses work?
Our online courses help with mental health problems such as stress, depression, anxiety, or trouble sleeping.
1

Choose a course

Find a course that suits you and your needs. If you're unsure, our psychologists can help you make the right choice during an initial consultation.

2

Choose psychological support

You can take the course on your own, or with online coaching from our psychologists or psychotherapists.

3

Feedback & sense of achievement

With our online coaching option, your psychologist will provide personal feedback after each unit, giving you a real sense of achievement!

4

Check reimbursement

Check here whether your health insurance company already provides free access to our courses. If not, we can place an individual request on your behalf.

5

Start the course

You can get started immediately as soon as you've received your log in details.

6

Practice, implement, apply

In the course you'll learn practical exercises and strategies to better understand and manage your symptoms in your everyday life.
HelloBetter has inspired me to better structure my stressful everyday life. I consciously take time out and can thus draw new energy.
Sandra (35)
This form of counselling is very well suited to help you to recognise your own situation and to find out ways to cope with it. I wish you that you will bring many more people on the right path, it has already helped me in any case, keep it up!
Peter (59)
Simple help for self-help. Whenever I need it.
Christiane (46)
Our experts in psychology
Our technical experts, who are responsible for the conceptual development of the trainings.
Assoc. Prof. Dr. David Daniel Ebert

Founder & CSO Managing Director

Dr. Hanne Horvath

Founder & VP Business Development

Dr. Elena Heber

Founder & VP Content and Research

Dr. Alena Rentsch

Psychological Psychotherapist
From our Blog
Our psychologists publish new articles worth reading at regular intervals.